It's been a while since I saw my schoolmates at high school. I dedicated 4 years of my pre-teen life studying at Malate Catholic School. I have a group of friends - the Pampam, whom until now, are still one my closest friends ever and we're still seeing each other.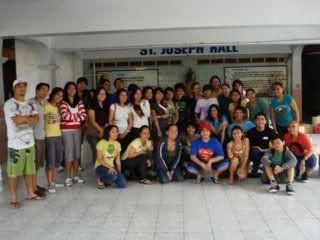 Sasa and Yani organized a reunion for us but instead of a party, we will dedicate that day to repack goods and donate them to the Ondoy victims through the Red Cross.
The reunion was held last October 3 at the school's lobby. It was raining during that day because of Typhoon Pepeng, but that didn't stop us from pushing through with the reunion.
I was really excited to see my highschool friends! When I arrived, my Pampam friends were already there and I saw packs of old clothes and canned goods laid on the floor.
It was fun packing those stuff! We separated the adult clothes from the children's sizes. Then there were toiletries, bed sheets, canned goods and noodles. Some even donated sacks of rice! Whoa! Thank you! Thank you!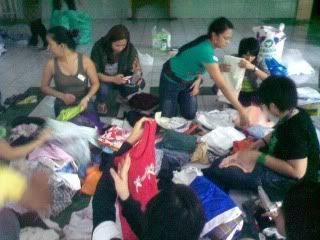 It was really touching to see my former schoolmates helping out, repacking and we didn't even hear a single complain from them. There were so nice...
Those who are living abroad just donated cash online. Thank you friends! May God bless you...
Then of course, MORE PHOTOS!!!
After packing, we went to the Red Cross office at Intramuros to personally give the relief goods. There were also students and foreigners helping in repacking goods. It was a touchy moment.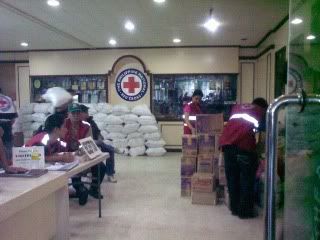 To cap off the day, we went to Jhoanna's condo for a small party. Pizza, Gin, Beer and Poker. I didn't drink much nor play poker with them, but nevertheless, I still had fun! Can't wait to see you again!