Since I'm curious about his music, I went to The Podium to watch Sam Bradley sing. After hearing him sing, I think he has a better voice than his vampire friend, Robert Pattinson (No offense.
=)
).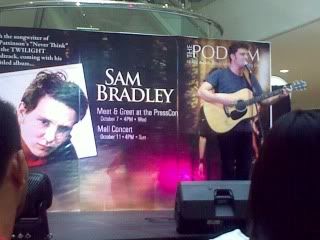 I liked his song, "Whiskey." I think this song is even better than the love songs he performed at The Podium because I can feel his passion and the friendship, the companionship that he has developed with his favorite drink - whiskey. When he sang it, it's like he's confessing his feelings towards that liquor bottle and how he felt about the idea of letting it go. ( I think?) He's also funny on stage and he's very relaxed, it's as if he's just singing in a friend's party, just sharing his music to everyone else. Nice.
I took videos of his performance - She moves me and of course, (and I think it's every fans' fave because this got the loudest applause when introduced it) Too far gone.
"She Moves Me"
"Too Far Gone"