I celebrated my Valentine's Day by watching Gary Marshall's Valentine's Day at SM Megamall (could it be more cliche?!). It was really a depressing day for me because everywhere I look, there were couples holding either a bouquet or a carrying romantically-wrapped package and it really made me feel alone.. Well back to the movie - - -
Valentine's Day... It's a movie about love and the intricacies of entering into a relationship. It showed love in different personas facing pressures and expectations brought out by Valentine's Day - puppy love, love between old couples, love between a mistress and a married guy, love between a newly-engaged couple, love between people who hates Valentine's Day, love between a gay couple, etc. These people's lives and their complex relationships were all put together to come up with a collective thought towards the true meaning of Valentine's Day which is, well, ahem, LOVE. That's it. Nothing more, nothing less.
What made me watch this movie in the first place is because I initially thought that it would be as good as Love Actually, but it wasn't. It's not that I hated the movie, but despite the number of great talents in this movie, I felt that there's still something lacking in the story. That's it. That's the problem. The actors were great but the story wasn't that interesting. Too many stories, too many characters, for a 2-hour film reel. The actors outshone the story. There were so many characters that it was difficult to maximize each character's story. I did not pay to see a great movie for my lonely Valentine's Day, I just paid to see these actors in their lovey-dovey, teeny bopper roles.
The character that made me say "Aaaaaaw..." = Bryce Robinson.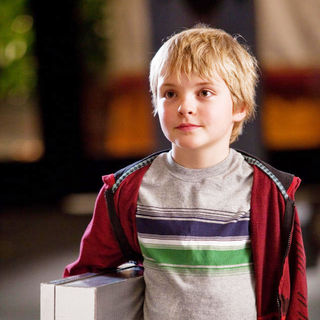 He's the sweetest character ever! I really fell in love with this guy! He's so thoughtful! And everytime he made a move towards Jennifer Garner, it made me say "Aaaaaaw..."
Comedy-wise, the movie has its high moments. What can you expect? It's a Gary Marshall movie. The guy has almost perfected the formula for a romantic comedy movie. I gotta say, Taylor Swift's character is funny! I love the pinatta scene, it's so funny! Bradley Cooper's character is the greatest surprise of all. I never thought that he would be Eric Dane's partner! All along, I thought he's flirting with Julia Roberts. Those are my faves.