If you're a frequent traveller and you can't wait to lie in a bed after a long hour of plane trip, then this has to be your lucky day. Located at the Newport City, Pasay, near NAIA 3 Airport, Marriott Hotel Manila has got to be the luxury hotel for tourists and jetsetters who doesn't have so much time to allot just to transfer from the airport to their hotels.
March 27, 2010, I got the chance to be invited to their event at the Velocity Bar.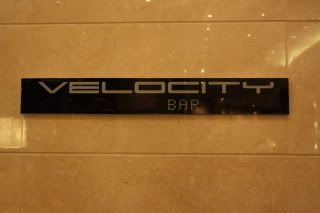 Velocity Bar is the country's first and only 5-star sports and entertainment bar. Its modern interior design perfectly reflects a chic and hip lifestyle. The bar's multiple large LCD screens provide great viewing pleasure and its top-of-the-line audio system takes the quality of sound and music a notch higher. They have multiple large flat screen televisions that shows live games from around the world. While watching your favorite game, you can drown yourselves in their local tap beer, selection of cocktails and food.
Their food menu consist of grill item mainly served in burger format and snack items like chicken wings and squid rings are all served on clean white Chinaware. Lavish finger foods, velocity burger with blue cheese and mouthwatering desserts are available to partygoers with a sweet tooth.
This integrated sports and entertainment bar provides the excitement and camaraderie of sports viewing in a high energy environment with great quality food and beverage. Guests can take their pick on how to better enjoy the game: in the cozy bar area where modern tables and couches are perfect for dining while watching; or in the theater set-up area where they can watch the game just like in a movie theater. Sports enthusiasts around the country are invited to come and watch featured sporting events and throw parties with friends who share the passion for sports.
Unfortunately, I wasn't able to join the tour of their hotel, but I really had fun together with my Martini and Cosmopolitan. =)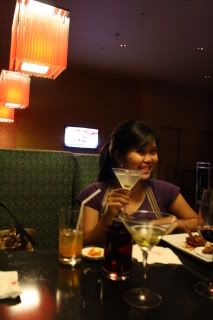 Aside from their bars, another reason to love the hotel is their first-rate 342 room accommodations including luxurious bedding, high speed internet, 40-inch, high definition LCD televisions with jack pack plug and play systems and spacious work areas. The two top floors house executive level rooms and 19 suites. Guests can enjoy a spectacular view of the 18-hole Villamor golf course from the executive lounge.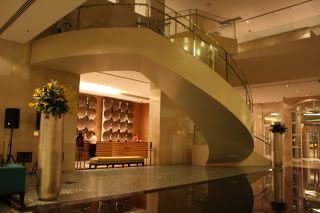 To know more about the hotel and its promotions, call (02) 988 9999 or visit
www.marriott.com/mnlap
.