One of the perks of working in a publicity company is the chance to be part of exclusive events. I got a chance to work for the Arzuaga Dinner event at
Landco Pacific's Punta Fuego
. What's so special about the Arzuaga Dinner? Arzuaga Winemaker, Ignacio Arzuaga was in the Philippines to host a special dinner and introduce his highly-acclaimed wines from his Bodegas de Arzuaga collection. Mr. Arzuaga is famous not only for his wines, but his family has contributed to the tourism industry of Spain because of his special wine hotel.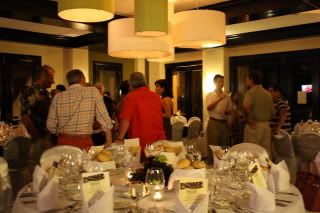 According to his spokesperson, some his wine fans include David and Victoria Beckham, Cristiano Ronaldo and Julia Roberts. Talk about A-list celebrities. A-list wine = A-list celebrities.
Now back to the dinner - - -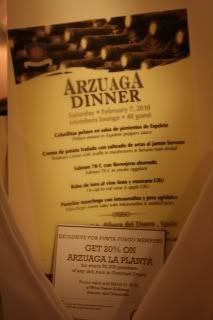 The five-course dinner prepared by Punta Fuego chef Mikel Villaverde was held at the Club Punta Fuego. Landco Pacific officials were there and so as the members of Punta Fuego Resort to experience this one-of-a-kind wine experience.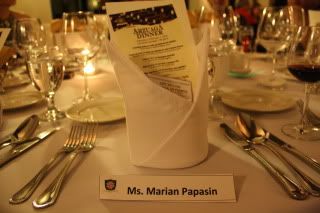 I have my own seat!
For cocktails, they served cheese and grapes partnered by Arzuaga La Planta.
Then the five-course-meal begins...
Pelayo onions in Espelete peppers sauce partnered by Arzuaga Fan D' Oro Chardonnay 2007.
Potatoes cream with truffle in mushrooms & Serrano ham timbal partnered by Arzuaga Pago Florentino Cencibel 2007.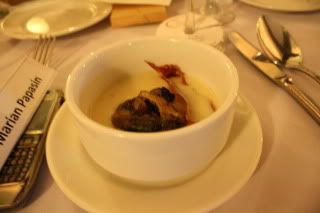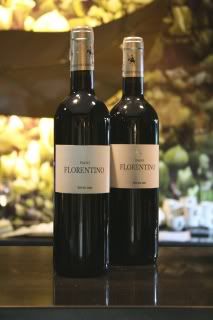 Salmon 70 C in smoke eggplant partnered by Arzuaga Crianza Temperanillo 2006.
Ox tail in red wine & appple CRU partnered by Arzuaga Reserva Especial Tempranillo 2004.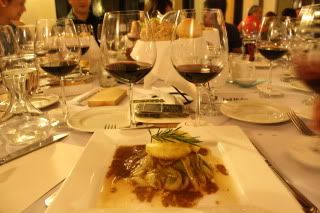 Manchego warm cake with intxaursaltsa & sauteed pears.